.
The Manitoba Orchid Society
Annual Show and Sale
Returns after 3 long years
March 24th to 26th
Breezy Bend Country Club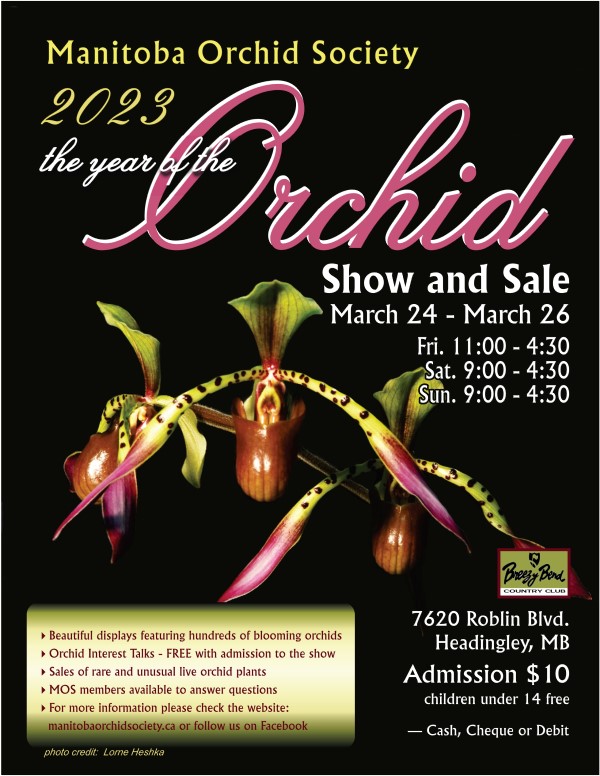 Orchid Vendors
EverSpring Orchids
Monica De Wit
Orchid Botanix and Tropicals of Winnipeg
Orchids in Our Tropics
Shelmerdine Garden Centre
Species Canada
2023 Orchid Show Presentations
While you are at the Orchid Show why not drop in to one of the Educational sessions happening Saturday and Sunday at 10:00 and 2:00.  Learn from folks who successfully grow orchids from all over the world in homes in Manitoba.
Ever wonder why one orchid gets an award, and another is passed over by the judges? Terry Kennedy is our Head Judge and this year and is well qualified to teach what the judges are looking for, and information about the wide world of orchid breeding and conservation.
Feel free to ask questions of any of our MOS members. Better yet – join the Manitoba Orchid Society and/or the Native Orchid Conservation Inc. and ask your questions every month at member meetings. The wide world of orchids is a great place to spend your time!
Saturday, March 25th
10:00 a.m.
Joan Porteous
Past President – Manitoba Orchid Society and life long avid gardener and orchid grower.
"Growing Orchids in Your Home"
A user friendly overview of how to be successful in caring for your orchid plants and how to recognize healthy plants.
2:00 p.m.
Terry Kennedy
Owner of "Orchids in Our Tropics",  Executive Member of the American Orchid Society, Accredited AOS Judge
"Judging Orchids, The American Orchid Society Way"
Learn about why this orchid is "better" than that orchid and what makes some plants worth so much more than others!
Sunday. March 26th
10:00 a.m.
Rick Askinis
President – Manitoba Orchid Society and President Native Orchid Conservation Inc.
Experienced grower and knowledgeable in all aspects of orchid culture in our unique Manitoba climate.
"Easy Orchid Repotting" – demonstration
Let Rick show you how easy it is to re-pot your orchid plants, including choosing the right mix for your plant. Hint- it's not garden soil!)
2:00 p.m.
Terry Enno
Terry has been growing orchids successfully for many years. Librarian of the Manitoba Orchid Society,  she is an avid student of home orchid culture.
"How To Get Your Store-bought Orchid Plant to Re-Bloom"
That lovely orchid plant you enjoyed for weeks, or even months, has dropped its flowers. Terry talks about after-blooming care, and secrets to get your plant to stay healthy and re-bloom!